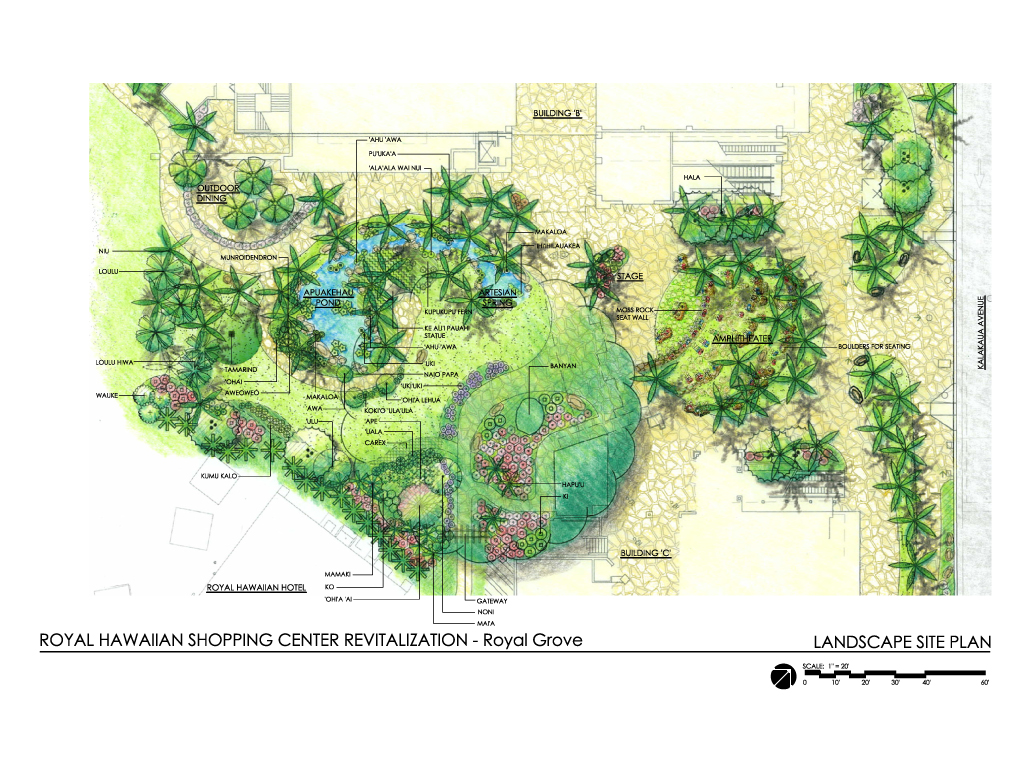 Royal Hawaiian Center
Waikiki, Oahu, Hawaii
2009 Hawaii A.S.L.A. Merit Award
Royal Hawaiian Center, formerly Royal Hawaiian Shopping Center, is the premier shopping, dining and entertainment destination in Waikiki. Spanning 3 blocks along Kalakaua Avenue, the 4-level Center is comprised of 3 main buildings. The renovation and expansion restored the Hawaiian sense of place to both the physical and operational environments of the Center.
The Center is located in Helumoa, once home to Hawaii's royalty and more than 10,000 coconut palms, and which served as the inspiration for the revitalization. The Royal Grove is a 30,000 square foot ethnobotanical garden – the largest open garden space in the heart of Waikiki - featuring not only abundant coconut palms, but indigenous and endemic native Hawaiian plants, Polynesian-introduced plants, performance areas, and a statue of Princess Bernice Pauahi Bishop. The Apuakehau pond, named for the ancient tributary created by the Manoa and Palolo streams, is reminiscent of Waikiki's original "spouting waters" springs.

The Center's renewed Kalakaua frontage has a softer, more inviting atmosphere. Large, flowing lawn areas with coconut palms, hala, kukui and shower trees have replaced the plantings that served as both physical and visual barriers to the 310,000 square-foot building once affectionately known as the "fortress." The open landscape allows views of not only the storefronts, but The Royal Grove and landscaped atriums – views that have been largely blocked since 1979 when the shopping center was first constructed.
Royal Hawaiian Center